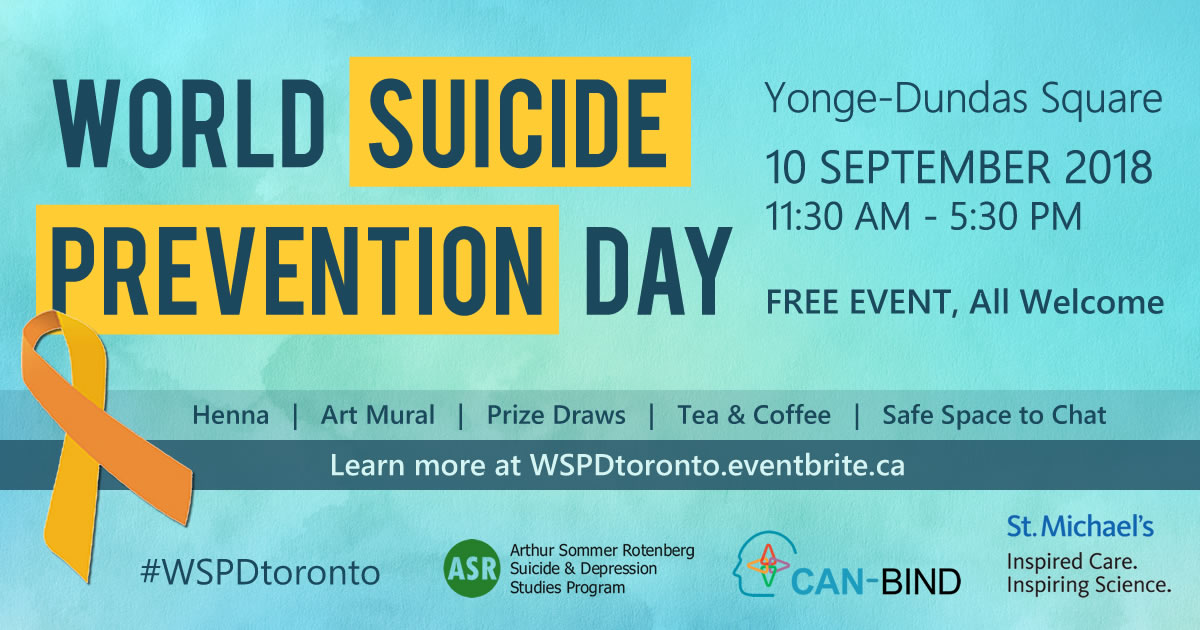 In honour of World Suicide Prevention Day (WSPD) on September 10, the ASR Suicide and Depression Studies Program and CAN-BIND hosted an event at Yonge-Dundas Square in Toronto to use creative tools to raise awareness and learn about suicide and ongoing research in mental health.
This free, public event included:
Community art mural: Express your thoughts and share your messages of support on our 10 ft x 4 ft art mural
Professional henna artist: Try the traditional form of South Asian body art to express symbols of hope and support for those struggling with or affected by self-harm, depression and/or suicide
Fact or Fiction: Did you know suicide is the second leading cause of death among young Canadians aged 15 to 24 (Statistics Canada, 2015)? Learn about the causes and symptoms of depression and factors that increase the risk of suicide
Speak to a Scientist: Talking about suicide can be very difficult. But starting a conversation with a few simple questions and knowing what warning signs to look out for may help to save someone's life. Speak with Dr. Sakina Rizvi (Research Scientist) and Amanda Ceniti (PhD Candidate) from The Centre to ask questions relating to mental illness, trauma, suicide risk and prevention and more
Information and other resources: Take away World Suicide Prevention Day resources and material developed by the ASR Suicide and Depression Studies and CAN-BIND Programs
Giveaways include:

Universal suicide prevention awareness ribbons

LED tealight candles

. Light a candle near a window at 8 PM to show your support for suicide prevention, to remember a lost loved one, and to honour survivors of suicide and suicide loss

Inspirational Quote Magnets

Prize Draw

. Share a message on our community art mural to be entered into a free prize draw. Winners will be contacted via phone or email
Thank you to everyone who came out!